Tire mold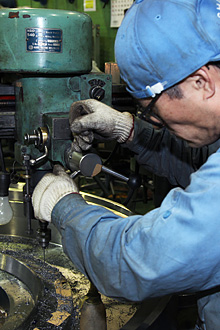 Know-how and achievements fostered over many years鈥?experience are what give rise to high quality tire molds
The quality of the molds that we hand over to our customers only becomes apparent when the tire is vulcanized. What we as the manufacturer can do is to finish the product exactly as shown in the drawings through repeated careful checks.
Products passed from the Machining Group and Lathe Group are adjusted by the Finishing Group, checked by the Product Management Group and further checked by the Quality Control Group. With this double check system, even small errors that might normally be overlooked do not escape detection.
The tire molds manufactured by Shinko Mold are the products of an organization in which each role can be fulfilled, as well as the unsurpassed machining technology of each individual fostered since the company was founded, matched with craftsmanlike skill.
As a result, we continue to do business with the major manufacturers that everybody has heard of, and we continue to grow as a widely respected company within the industry. However, we are not resting on our laurels. Always on the lookout for new technology, our employees learn from each other. In this way we work constantly to improve our products.
Quality management system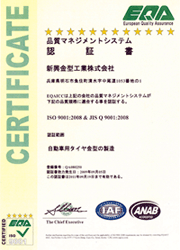 ISO 9001:2008 and JIS Q 9001:2008 certified
Tire makers often bring in molds with damaged cavities or excessive clearance saying,
鈥淐an you have a look at this mold?鈥?/h5>
Apparently if they take it to the manufacturer, they are generally told, 鈥淚t would be quicker to make a new one鈥?
Since repairing a mold depends significantly on the discernment and dexterity of an experienced craftsman, many manufacturers cannot provide this service and consequently, they suggest making a similar mold from scratch.
At Shinko Mold Industrial, we have more than fifty years鈥?experience and a large cadre of professionals who have honed their skills making countless molds.
These skills are also displayed in adjusting clearance, a service which customers often request. Normally, the gaps between sectors are closed by welding, but when a tire is actually cured, it inevitably results in a distorted product.
But through trial and error, we succeeded in developing a method of adjusting the segments without welding.
Naturally, it takes a lot of time and effort. But what customers want is a mold as good as it was before. To meet this requirement, we threw in all of our accumulated experience and technology. That is the basic policy of Shinko Mold Industrial.